ABC Signup (the name) to ride off into the sunset
Kentucky Fried Chicken became KFC; Confinity changed its name to PayPal; Lucky - GoldStar became LG Electronics; and we will soon kick the name ABC Signup to the curb in favor of Learning Stream.

We will still be the same company providing the same service, and you'll navigate and work in your account the same as always (although we're always looking at ways to make that even easier). But we believe it's time our name reflected what the software truly is: registration management rather than just a basic online registration tool.

Every ABC Signup user interacts with the software in different ways, but all need something basic online registrations tools can't address. Registration management can mean handling complex pricing and registration scenarios, shopping cart functionality, continuing education tracking and reporting, issuing certificates, sharing data with other software platforms, single sign-on/remote authentication, video content delivery, and efficiently handling multiple programs (classes, workshops, etc.) that occur often and sometimes simultaneously.
Our goal has always been to streamline the connection between you and your learners and other participants, so you can worry less about registration and more about results. We believe the name Learning Stream best reflects that. We also believe the new name will give us more flexibility in expanding our services to meet your evolving and unique challenges before, during, and after the registration process.
We don't expect or intend the name change to be a big disruption for you, and we'll make sure it isn't. We still have a lot of heavy lifting to do before the change. Just getting used to saying "Learning Stream" when we answer the phone will be a challenge for awhile. But we expect to the official switch to Learning Stream to occur sometime after the temperature drops later this year. Meanwhile, we'll be sure to keep you informed as we get closer.
Time to get (re)acquainted?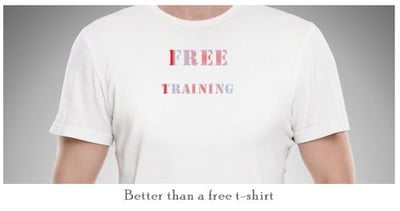 If you're new to ABC Signup or just need a refresher, check
out FREE upcoming opportunities here. Plus, you can always check out recorded training opportunities at your leisure. Or you can schedule custom training for a low fee.
Insider tips: Formatting
Few people love a nicely-formatted Word document as much as we do, but we draw the line at pasting such formatted copy into the ABC Signup text editor. Word formatting and HTML don't get a long so well. Therefore, we beseech you to always use the clear formatting option on the text editor toolbar any time you paste text. Otherwise, it could cause unintended consequences such as weirded-out formatting or security warnings that will have the FBI showing up at your door.
Social Updates
Here's a blog on continuing education, and check out our recent Facebook posts here.