ABC Signup introduces a native app
Many programs are still required by governing agencies to have attendees sign in the old fashioned way when they come to class. We have some good options for that, including configurable sign-in templates. But if you are free to mark attendance digitally, ABC Signup has introduced a native app (designed specifically to work with ABC Signup) that allows you scan in participants with your smart phone.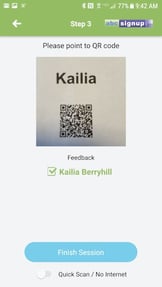 The app includes a QR code scanner which scans and checks in registrants. You can print out name badges ahead of time that include unique QR codes, or you can print out a list of all registrants and their codes. Scanning will immediately mark a person as an attendee in ABC Signup. An event code tells the app which event you're scanning for.
The process works for a single event as well as an event's breakout sessions when the breakouts are set up as sub events.
To download the app, search 'ABC Signup' in the Apple App Store (iPhones) or the Google Play Store (Androids).
If you are a current ABC Signup customer and would like to get started with the app, please contact your customer service representative.
If you're new to ABC Signup class registration software or just need a refresher, our crack training team has put together a set of videos that would make Jean-Luc Godard seethe with envy if he caught wind of them. If you prefer, we offer monthly live training opportunities. Or you can schedule custom training for a low fee that also fill a French director with envy.
Insider tips: Dashboard
You now have two choices when you log in. You can either view a dashboard or you can view the traditional list of events.

Whichever you prefer, set your default landing page view in Application > Users > Edit your account. If you do not have access to Application on your account menu, contact your system administrator.

If you choose the dashboard view, select 'Ctrl' and 'F5' (or the refresh option on your browser) to refresh the screen. That will clear any cache that may cause anomalies. You should only have to do that one time.
There may be more options to come for the dashboard, so please share with us any suggestions you have.
Social Updates
Here's a blog post on our newest payment gateway partner, and check out our recent Facebook posts here.